ACT Unlock Tool Pro V3.0 Download Universal MTK Tool 2023
Universal Android Tool (UAT) is a powerful tool that can be used to unlock, flash, and repair Android devices. It supports many devices, including those powered by MTK and Qualcomm chipsets. ACT Unlock Tool Pro is a premium version of UAT that offers additional features, such as bypassing FRP lock and removing Mi Cloud lock.
This article will provide a brief solution for downloading and installing UAT and ACT Unlock Tool Pro. It will also discuss some of the features that these tools offer.
ACT Unlock Tool And Universal Android MTK Qualcomm
ACT Unlock Tool 3.0 is a powerful and user-friendly mobile repair software. It can be used to erase FRP, remove pattern passwords, format, factory reset, erase Vivo Demo mode, unlock bootloaders, unlock Mi locks, and bypass SLA DAA.
To use the Adanichell Universal Android Tool MTK Qualcomm, you need to install the proper USB driver on your PC, run the FRP Tool, connect your device in MTP/Flash/EDL USB Mode, select the desired option, and the tool will detect and unlock your phone.
You can also try the premium software for free by downloading the Universal Android MTK Qualcomm ACT Unlock Tool Pro V3.0 Full With Loader Latest version.
Download ACT Unlock Tool V3.0 Universal Android MTK Qualcomm Latest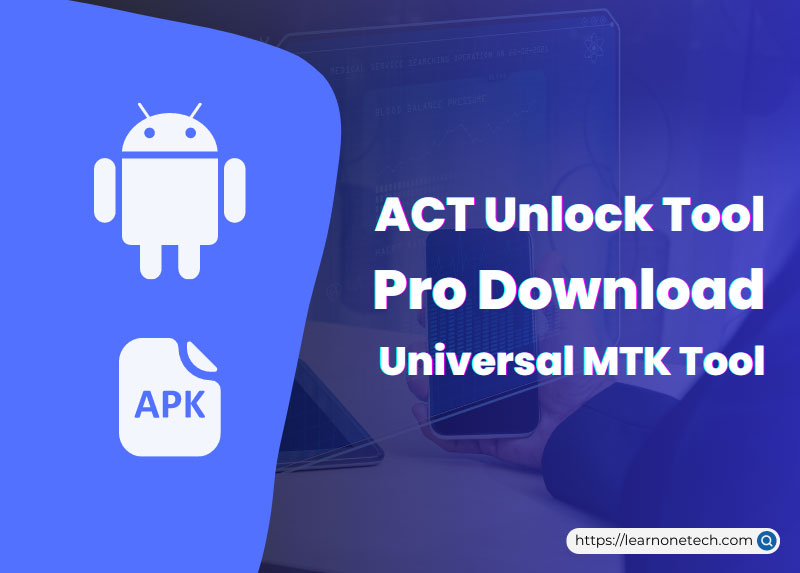 The latest ACT Unlock Tool Pro V3.0 version is now available for free download for Windows 64-bit systems. This powerful tool can unlock bootloaders, bypass FRP locks, and flash firmware on Android devices.
To download the tool, click on the link below. Once the download is complete, extract the ZIP file and run the setup program. The tool will then be installed on your computer.
File Name:
Act_Unlock_Tool_Pro.zip
File Size:
334.4 MB
File Type:
.exe
Compatible OS:
Windows XP, 7, 8, 8.1, 10, 11 (32bit & 64bit)
Credit:
Soe Htike Aung
Download:
ACTProTool.zip
Setup password: act1
Activation key: SahirlTecno
How to Use ACT Unlock Tool V3.0 Full With Loader
[1] First, download and extract the ACT Unlock Tool Pro setup onto your computer.
[2] Next, launch the ACT_Unlock_Tool_Setup.exe, ensuring you run it as an administrator.
[3] When prompted for a password, enter act1.
[4] Be patient for a moment while the tool initializes.
[5] Proceed to install the tool.
[6] Stick to the on-screen guidelines to ensure a successful installation.
[7] Choose 'Next' and select 'Create a desktop shortcut.'
[8] Choose your preferred installation directory, then hit 'Install.'
[9] After installation, tick 'Launch ACT Unlock Tool Pro' and click 'Finish.'
[10] Upon launching, the tool will prompt you for registration. Use Key: SahirlTecno.
[11] In the meantime, extract the ACT Tool Full Loader file.
[12] Duplicate the ACT Pro Loader File, then paste it into the ACT installation directory.
[13] Make sure to run the ACT Loader File as an administrator.
[14] In the window that appears, pick ACT_Unlock_tool.exe and click 'Open.'
[15] You'll see a "Patching Complete" notification. Click 'OK.'
[16] Now, execute ACT_Unlock_Tool.exe, running it as an administrator.
[17] The tool will now be accessible on your computer.
[18] From here, you can explore the various options available.
Functions
MTK Universal
Factory Reset | Erase FRP [All MTK]
Safe Format- [PARA] | Samsung FRP [All MTK]
Safe Format – [Misc] | Xiaomi Account Erase
Authentication Bypass | Vivo Demo Remove
Unlock Bootloader | Vivo V23e Demo Remove
Relock Bootloader | MTK Client GUI Tool
Auth Bypass | Flash | Stop
Unlock Bootloader | Format Data | Backup NV
Relock Bootloader | Erase FRP | Erase NV
Reset MICloud | Erase FRP [SAM] | Restore NV
[19] USBDK Driver X64 Bit || MTK QC Driver
[20] Now Turn Off your Android Phone
[21] Put it into the EDL, VCOM, Preloader, Flash, Meta, mode
[22] Connect your phone to the PC
[23] Choose the function you want to use on the ACT tool
[24] That's it.
Was this article helpful?