Samsung S8 FRP Bypass 2022: Today, I show you how to Bypass Google Verification on the Samsung Galaxy S8 phone after a factory reset. If you want to Samsung Galaxy S8 FRP Bypass without Computer, this article is only for you. Here I explain it very quickly and clearly. Samsung s8 frp remove without computer, Samsung s8 google bypass, Samsung s8 frp lock remove.
Samsung S8 FRP Remove without Computer
FRP Lock automatically will be activated on your Samsung Galaxy S8 smartphone. If you log in to your Google account and reset your device, then the FRP lock is activated. If you know the password for your previously logged ID, you can easily bypass your google account on your Samsung phone by connecting to a Wi-Fi network.
But when you forget the password, then you need to remotely log in to your smartphone for Samsung Galaxy S8 FRP Bypass Android 9 without pc, and you will have to log in to a new Gmail Account. For this process, you need to know about some essential FRP lock removal software that will help you to set up a New Gmail Account on your Samsung S8 smartphone.
So let's see how Samsung Galaxy S8 FRP Bypass without the Computer new method 2021, and you can get your phone back as before. The Galaxy S8 FRP Remove Solution.
Samsung Galaxy S8 FRP Bypass Tool
Easy Samsung FRP tool is the best FRP tool for Samsung Galaxy S8 in time. You can easily bypass FRP with pc by using it. But here I'm going to show you the Samsung s8 bypass google account without pc. So in this s8 FRP bypass process, you need to download the QuickShortcutMaker APK. Just click on the Download now link and get the Samsung S8 FRP Bypass Tool.
Quick Shortcut Maker apk Download 2021
Samsung Galaxy S8 FRP Bypass 2022
Turn on your Samsung Galaxy s8 device and connect with a Wi-Fi network.
Come to the welcome screen and tap on the "emergency call" > Dial to "112" > and then come back to the welcome screen, tap on the "Lest's Go!" icon.
From the "choose a Wi-Fi network" page, tap on "+ Add Network."
tap on the keyboard settings icon > Keyboard layout and feedback > key-tap feedback > sounds and vibration > Answering and ending calls > Answer automatically
On the "Answer automatically" page, tap with two fingers on the 2 seconds and 10 seconds at a time. Once the call app does not respond, it shows the "call setting keeps stopping" notification. Tap on "App info."
Now tap on the settings icon > Block numbers > Recent > and the tap and hold on the Emergency Number option.
Tap on the Message icon > Message app will open > type on the message box, "https://youtube.com," and send it. Tap on the linked text "https://youtube.com," then the youtube app will open.
Search on the youtube "FRP tool enough tricks" then go to the first result on youtube. In the video description, I put the QuickShortcutMaker.apk download link. Click the link and download the QuickShortcutMaker.apk.
Install the Quick Shortcut Maker and open it.
Search "Lock Settings," then open the "Select Screen Lock" option > tap on try.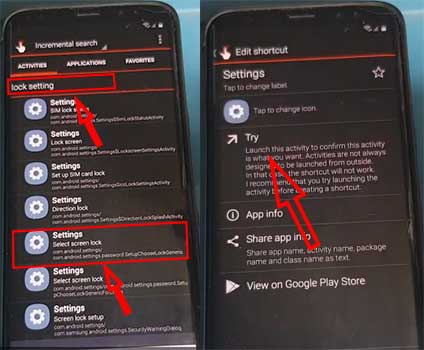 Click on the Pattern > Do not require > Draw a new pattern lock > tap on Confirm.
Now restart your Samsung S8 FRP Locked phone.
Just draw your pattern lock and Samsung s8 frp remove is successful.
Frequently Ask Question (FAQs)
How do I remove a Google account from my Galaxy S8?
Unlock your phone and go to the Setting menu > From the Account Option, > Remove Google Account > Done! Now you can reset your phone without facing the FRP lock.
How do I bypass Google FRP on Galaxy S8?
1. Connect with wifi
2. Open the Chrome browser and go to https://learnonetech.com/bypass and download the FRP Bypass APK and Apex launcher.
3. Install these applications and login into your Gmail account.
4. Restart your phone.
How do I factory reset my Samsung Galaxy S8 without google?
Turn Off your Phone > Press and Hold Power & Volume Up button > select Wipe Data/Factory Reset by volume down > Power button to confirm > scroll to YES > Press the Power Button > Complete.
How do I turn my Samsung Galaxy S8 off without the screen?
Press and hold the Power button until SAMSUNG GALAXY TAB S6 shut down by itself. You may also try to press and hold the Power + Volume Down button together to shut it down.
How to Samsung Galaxy S8 FRP Bypass without a Computer?
1. Open your Samsung Galaxy S8 device
2. Connect with wifi network
4. Tap on the "emergency call"
5. Dial to "112"
6. Tap on "+ Add Network." Read the full article…
How do I remove S8 factory reset protection with Developer mode?
Go to the settings Menu > then About Device > tap on the "Build Number" more than 5 times > go back to settings menu > Now tap on the Developer option > check to Enable OEM Unlock > Done! Now you can reset your phone without facing the FRP lock
Samsung s8 frp remove, Samsung s8 bypass google account without pc, Samsung s8 frp remove without computer, bypass frp s8, s8 frp bypass, s8 google bypass, Samsung s8 google bypass, Samsung s8 frp lock remove, g955u frp, s8 g950f, Samsung galaxy s8 google bypass, Samsung s8 bypass google account,