Are you want to bypass FRP Samsung A23 Android 12 without pc? Okay, In this post, I told you how you can do Samsung A23 FRP Bypass Android 12 version without a computer or SIM card (Umm, I mean without using any pin-locked sim card). If you are interested in fixing your Samsung A23 device, then I'm telling you, follow this FRP lock bypass complete steps carefully.
Samsung A23 FRP Bypass Android 12 without Alliance Shield
Samsung FRP Bypass method is a changeable process. Every 1 week later google comes with new security features and then the old FRP look removal process doesn't work. On my LearnOneTech website, I always try to continue to update the FRP solution. So, For the best FRP Samsung A23 bypass solution, you can follow these given steps carefully.
How to FRP Bypass Samsung A23 without PC
In this method, we will describe the Samsung A23 FRP Bypass process with Samsung FRP Bypass Tool V1.5. This tool works great on the latest Samsung phones. So, let's get started.
We will try to describe the process step by step. So that you can bypass Samsung A23 FRP easily with the Samsung FRP Bypass Tool. First of all,
First, Download the Samsung A23 FRP Bypass tool, and extract and Install it.

Turn on your computer.
Open Chrome from the taskbar or Start Menu.
Download the Samsung FRP Bypass Tool V1.5.
Now extract the zip file with WinZip or WinRAR.
Now add the file to the antivirus exclusion list or disable your Antivirus.

To add the file to the antivirus exclusion list, you have to –
Go to Settings from the Start menu.
Then click on Update & Security.
There, you will find Virus & Threat Protection Settings.
Under the Virus & Threat Protection Settings, you will find Manage Settings.
Click on Manage Settings.
Then, under Exclusions, select Add an Exclusion.
Now add the .exe file. That's it.
Also, you can disable your Antivirus or Windows defender. To disable it –

Go to Virus & Threat Protection Settings and click on Manage Settings.
Then turn off Real-time Protection.
[When this is off, the antivirus will not scan any downloaded or installed file on your computer.]
Now get back into the Samsung A23 FRP Bypass process:
Turn on your FRP Locked Samsung A23 Device
Connect with a strong WiFi Network.
Connect your phone properly with the Computer [It's important]

Connect your phone to your computer using a USB Cable.
Then go to Device Manager on your computer. [You can open the device manager by searching it on the Start menu.]
Now check the Samsung mobile USB modem or Portable device that appears here. [Note: If it is not shown, install the Samsung USB Driver from the extracted folder, and connect your phone to your computer again.]

Now run the Samsung FRP Tool.exe and open it.
Click on Direct Unlock – Android 9/10/11/12 button, which is available on the right bottom side of the window.
It will automatically detect your phone and information about it.
After that, a popup screen will come up. Don't click okay on it.
Now take your phone & go to Emergency Call. Dial *#0*# to enable Test Mode.
Then click OK on the computer screen.
Allow USB Debugging on your phone screen. [ Check always allows from this computer and click OK.]
Wait for the software to reset FRP Lock and reboot your device.
That's it. FRP Unlocked. This tool works on most Samsung phones irrespective of Knox or Android Security Patch. If you can't bypass Samsung A23 FRP by reading this article, you can see this video
How to Samsung A23 FRP Bypass without PC
Yes, you can bypass the frp (Factory reset protection) from the Samsung A23 without the computer. This is the latest working way to bypass the FRP lock on the Samsung A23 device with android 12 (tested). In this step, I show you the easiest tricks to Bypass FRP on Samsung A23 without a PC. So just follow me…
What do I need to perform this method?
An FRP Unlocked Samsung Phone
A SIM Card with a Data Package
A Samsung Account
Notification Bar.apk (Download)
Package Disabler Pro.apk (Download)
Okay, first of all, you need a simple preparation to perform this process. For doing this, you need to have an unlocked Samsung phone. On the Unlock phone, you need to:
login into your Samsung account.
Then download and install the above two applications (1. Notification Bar.apk, 2. Package Disabler Pro.apk) on your unlocked Samsung device.
After installing these applications, you need to backup these apps to your Samsung account. For doing these please follow me:

Go to the settings > Accounts and Backup > On the Samsung cloud, click on "Back Up Data" > Deselect all except the "Apps" > and finally click on "Backup Now."

Now the same Samsung Account we login into FRP locked the Samsung A23 Android 12 phone with some tricks. please follow the FRP bypass process carefully.
The Samsung A23 FRP Bypass Process Began
On the FRP locked Samsung A23 Device:
#Step1: Open The Samsung Phones Setting option:
Put in a SIM Card and don't need to connect with any wifi network.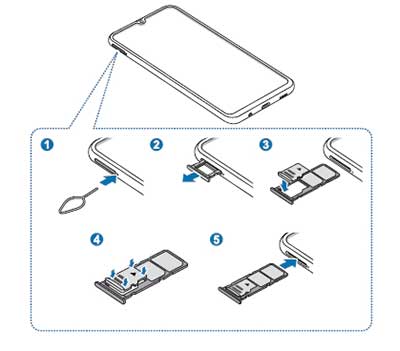 Press and hold for 3 seconds with the Side and Volume UP keys > Tap on "Use."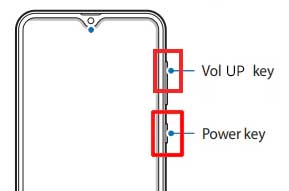 And then again, Press and hold for 3 seconds with the Side and Volume UP keys for TalkBack. (Note: After the talkback is activated, you need to tap or press two times on the option for doing anything.)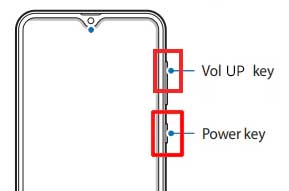 Draw reverse L on the Phone screen, tap on "while using the app," then double click. Now select the "Use Voice Commands" > And say loudly, "Google Assistant" (If this process does not work the first time, then do it again.)

Okay, now the google assistant opened. Disable the talkback by pressing the Side and Volume UP keys.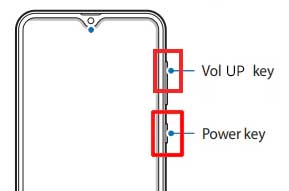 Say loudly, "Hey Google, Open Settings." If the settings open, it's fine. But if it's not open, tap on the google icon like the picture.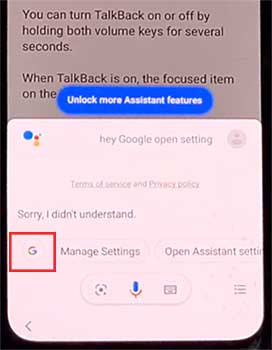 Now click on the "Voice" icon and say loudly, " Hey Google, Open Chrome."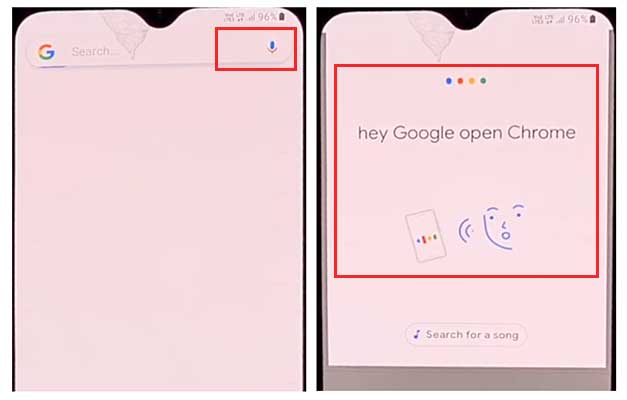 Click on the "Accept & continue" and then "No thanks."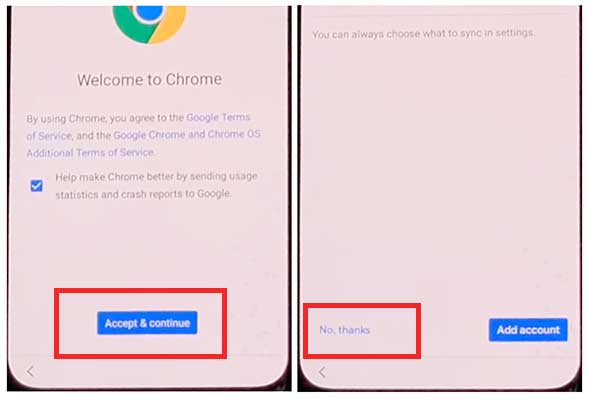 #Step2: Open the Settings and sign in to your Samsung Account
On the chrome URL bar, tap and type here: "bit.ly/frpunlocktools"
Click on "Open Settings App" > now login to your Samsung Account and cancel the "Faster way to sign in."

#Step3: Enable the Accessibility Button
Come back to settings by tapping the back icon, scroll down and tap on "accessibility" > Interaction and dexterity > Universal switch > keep pressing on "Next," then click on "Done.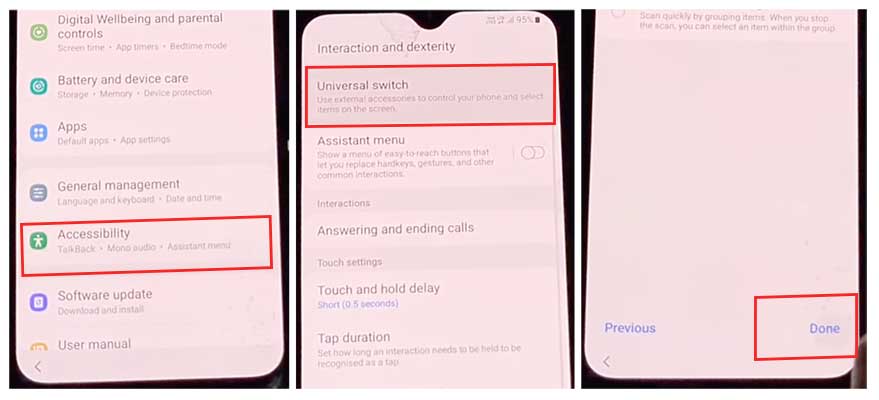 Now click on "Universal switch shortcuts" > Turn it On > Allow > enable the "Accessibility button" and then come back to settings again.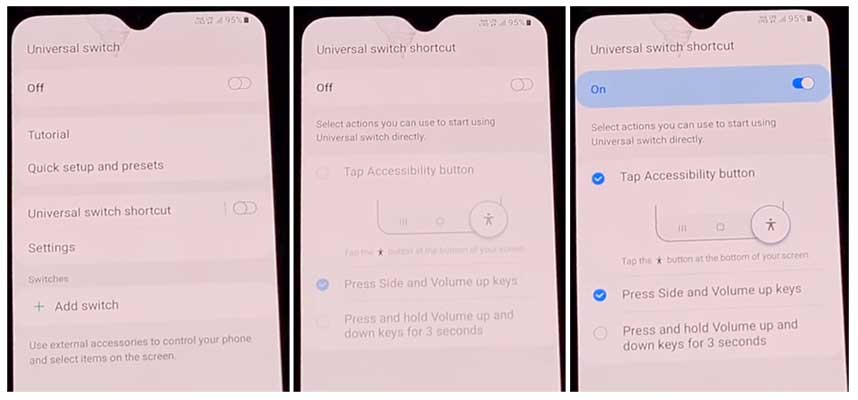 #Step4: Restore and Backup the old Data
From the setting, tap on Accounts and Backup> Now tap at the same time on Restore Data and Accessibility icon > select all and click on Restore.
Then Install Backup> click on Done.
#Step5: Install the S7, S8, and S9 Launcher from Galaxy Store
Click on Samsung Account > Samsung Apps and services > Galaxy Store > Now and update the Samsung Galaxy.
1. When the update is complete downloading, it shows "installing." Then click on the back icon. (If it shows again to update, then do it again)
Again click on Samsung galaxy store > Agree > Continue > Skip > tap on the search bar and search here "S7, S8, S9 Launcher for galaxy" > Install it > Click on Open.
#Step6: "Allow management of all files" on the Package Disabler Pro Application
On the Apps list, you see "Notification Bar" and "Package Disabler Pro" applications.
Now go to the Settings > Privacy > permission Manager > Files and Media > click on 3 dots from the upper right corner > click on Show system > Now find the "Package Disabler Pro" and give permission to the app by clicking "allow management of all file"> Allow.
#Step7: Settings on the Notification Bar Application
Come back to the home screen > and open the "Notification Bar application > Click on Accessibility > Installed Service > Notification Bar > and then turn it on.
Again Come back and click on notification > and allow the Notification Bar.
#Step8: Activate KNOX Validation on the Package Disabler Pro app
Tap on the Back and from the installed app list, find the "Package Disabler Pro" then open it. (Before doing this, first turn off all internet connections (Wifi & SIM Net), If mobile data doesn't stop, remove the SIM card instead.)
When the app opens, check the "I agree" and click on the "Enable Admin" > then click on the "Activate" button.
Check the "I have read and agreement" then click on the "Confirm" button. (For this process, you need to connect your phone to the internet, so plug in the SIM Card again)
Okay, after clicking on the "Confirm" button, it may show "Retry", Don't worry, click on again on the "Retry" tab.
Now you see a message, "Knox license validation completed successfully."
#Step9: Final Step, Bypass the Samsung FRP Lock
In this step, the "Please wait" screen will appear.
Now tap on the search icon, and find the "Setup." From the search results first, click on the "Android Setup" > check the "Disable" > Tap on the Back icon.
Click on the "Samsung Setup wizard" > click on the "Clear Data." (When you clear Samsung setup data, then you see "Time" shows on the notification bar. Which means your Samsung A23 FRP Bypass complete successfully)
Final touch
Friends, I hope you have followed this process very carefully for so long, And hopefully, you have been able to Samsung A23 Google FRP Bypass Android 12 without Computer very well. If you have any problem unlocking, you must mail from our contact page or knock on the Facebook page. Thanks!
Was this article helpful?